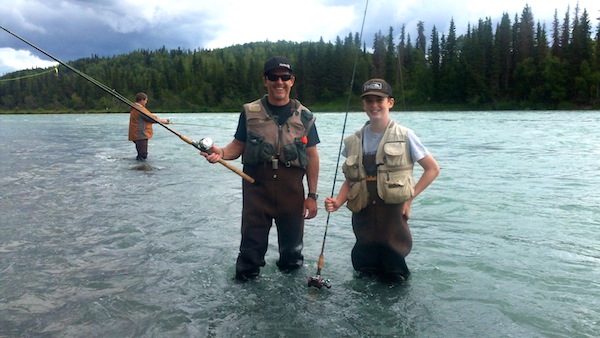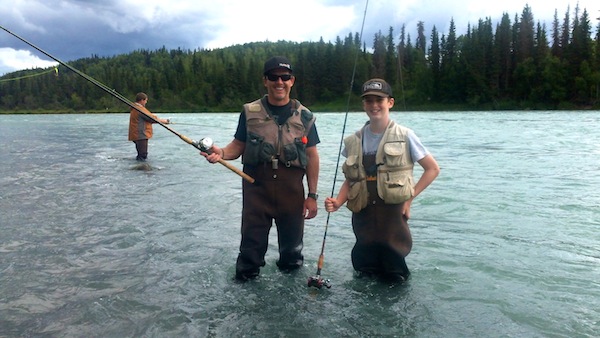 Only a man can make a man, a man, which is why we encourage you to partner with us in our Dads for Lads program. Adventure with us for this unique opportunity to come alongside a young man and brave the Alaskan wilderness while affirming his manhood and identity in a safe and God–centered environment. The deposits made into this young man's life will serve to strengthen him for his future. Additionally, a trickle-down effect begins to take root as he grows up making deposits into the young men in his life, promoting a healthy cycle for generations to come.
Building the Pole (The Foundation)
When you have all the right pieces – building your fishing pole becomes as easy as making a PB & J.  We all know that in order to build a successfully tasty PB & J, it is absolutely pivotal that we have only the finest of ingredients.  The same is true of our Dads for Lads Program.  The combination of you, a young man in need of a Father figure in his life, and a willing heart, will serve to be a powerful blend, sustaining on into the future of both lives involved.  Because we want making that PB & J to remain an easy task, we will provide you with everything you need plus some.  The "plus some" includes, however is not limited to the following: Recommended Mentoring Study Materials, Any/All Tools, & Gear.  We simply ask that all young men are over the age of 15. We believe that each man was uniquely designed to serve, provide, and love as a Father.  Additionally, each man was uniquely designed to receive that service, provision, and love from a Father.  We are inviting you to stand alongside us and actively say "Yes" to the work that God is doing through the specific and dynamic relationship of a Father and a Son.
Hooks, Lines, and Sinkers (The Details)
Though adding the hooks, lines, and sinkers to your fishing pole may indeed require a little more attention to detail, we are confident in the ways by which we have created a seamless and snag – free approach to all niceties surrounding Fishcamp.  Registration included.  Here's how it works: Email the registrar at info@Alaskafc.com to lock in the dates for your soon to be best vacation ever. Pay a deposit and allow us to help you hunt for the best airfares to Alaska.  We specifically did not say from Alaska, as we've noticed a trend of regrets that stem from having a return ticket. Plop on down in your favorite java shop and review our resource materials and packing list.  We guarantee you will reach the end of this planning session feeling like a racehorse, trapped behind the gate, waiting for the trumpet to sound.
Fish On!
The trumpet sounds and you're on your way!  The Alaskan version of this is "Fish On!"  It's not only an exclamation that serves to tell everyone around you that you have a fish on your line, but it also means it's go time!  (Because if you've been fishing before, then you know that the reel fun comes as you start to bring in your prize)!  You can find your weekly winnings below: The following goes into a graphically designed calendar format.
Sunday:
Wave to the moose and/or caribou herd and "oooh and awww" as you arrive to your Alaskan Lodge for the week.  The party kicks off with a Welcome Reception, fresh and (a crowd favorite) Lodge dinner, followed by an orientation with our infamous Grandma!
Monday:
AM: Wood you rather cut down a tree (no chainsaws here folks), leave your mark at the Lodge by handcrafting a piece of furniture or a personalized project, or blade carve a walking stick? Afternoon: We're putting you on the fast track to becoming a confident Pro as it relates to all things fishing and outdoors by teaching and preparing for the week's upcoming adventures. PM: Relax next to a blazing campfire along the riverbed as our Camp Speaker dialogues on Becoming a Man of God.  Included: The largest S'Mores you ever did see.  Seriously.
Tuesday:
We're going wild.  We may hike you on up a river, explore the backwoods, catch a 100lb halibut out on the deep blue sea, wrestle a bear, combat salmon fish, or ride a moose.  Okay, we're kidding about riding a moose, though maybe you want to be the first to try?
Wednesday:
AM: Is it really considered manual labor if you're working on and/or in a Lodge in the middle of the Last Great Frontier?  We didn't think so either. Afternoon: Back doing it like the Pro's do it! PM: Recline back into your favorite position next to the campfire, toastify that S'More, and relish in the wonderful Alaskan wilderness.
Thursday:
We're going wild.  Again.  No real explanation can do the activities that shall ensue on this day, justice. PM: The time has finally come.  We are going to teach you how to dress and clean…the salmon you slayed and halibut you hunted!  Once it's been processed and packaged, we will teach you the tricks of the trade when it comes to cooking your meat, and unintentionally making your family believe you went to Le Cordon Bleu.
Friday:
Let us forewarn you – you may experience culture shock this day as we will be visiting the port of Homer, AK –  the largest city life your eyes will have seen in weeks (yes, we say weeks because each day in Alaska feels like 5 in the lower 48 states).  Nevertheless, this road trippin' day will showcase the best kept secrets in terms of photography, wildlife, harbors, souvenirs, and nautical lessons. PM: We be BBQin' on into the night (aka eating our emotions in food) as we cap off the evening with a farewell ceremony and "man's man" event to close our week.
Saturday:
AM:  A "See you next year" brunch before departing Fishcamp at noon! Please note: Flexibility is as important to your week, as peanut butter is to that PB & J.  If it's 80 degrees, we're eating outside.  If there is a clam tide at 4am, we're going clamming.  If the fish are running at midnight, we're going fishing.  If we find materials to build a human slingshot, someone may be launched into the river.  It's just how it goes. Please note: AM, Afternoon, and PM may look considerably different in Ninilchik, AK as these time frames do in your neck of the woods.  This is something to be mindful, accepting, and excited about!